Youm-e-Pakistan 23 March Festival Cricket Match
Danish Ahmed the Captain of Karachi White Disabled receivng the Winning Trophy of Youm-e-Pakistan Festival Cricket Match at UBL Sports Complex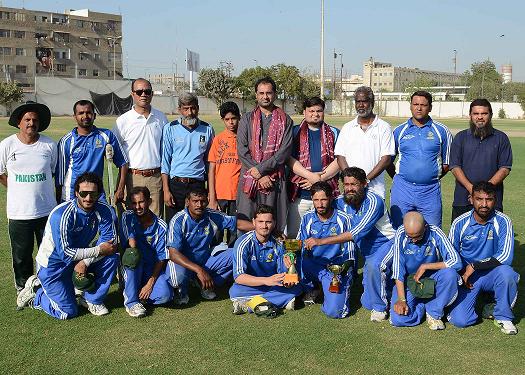 The Group photo of Karachi Disabled Blues Cricket team winner of Pakistan Day Cup with Chief Guest Group Head – BSG Projects and Centralized Procurement United Bank Limited (UBL) Sharjeel Shahid. At Ubl Sports Complex Ground. Honoury Secretary PDCA Amir Uddin Ansari. Coordinator (PDCA) Saeed Ali. Cricketer Ahsan Ullah and others also seen.
Toss Won: Karachi White    Series: Youm-e-Pakistan Festival Match
Umpire: Sabir Qureshi                  Date: 23-03-2015, 10:00am
Umpire: Muhammad Ali Scorer: Afrasayat
Ground: NSK Karachi Result: Karachi White by 01 Wicket
Man of the Match: Tahir Hussain (Karachi Blues)

SUMMARIZED:

KARACHI DISABLED WHITES. 217-10 IN 34.4 OVERS. Captain Danish Ahmed 56 in 38 balls (4x6), Haroon Rasheed 36 in 29 balls (4x5), Farhan Saeed 33 in 32 balls (4x3), Arif Richard 29 in 49 balls (4x3). Tahir Hussain (RMF) 2-27, Rao Jawaid (os) 2-28, Iqbal Hussain (RLS) 2-51.

KARACHI DISABLED BLUES 218-9 IN 32.3 OVERS. Farooq Khatak 39 in 42 balls (4x4), Ishaq Junior 33 in 27 balls (4x5), Zafeer Ali 32 in 27 (4x4), Abdul Rehman 31 in 32 balls (4x4), Tahir Hussain 22* in 16 balls (4x3). Abdul Jabbar (SLA) 2-27, Nouman Sabir (SLA), Ishaq Senior (LMF) 2-42, Ameer Ahmed (SLA) 2-59.