Farhan Saeed (International Disabled Cricketer)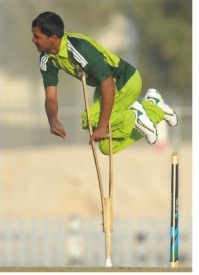 Today we are introducing a unique Cricket fast bowler from Pakistan who runs with a scratch and bowl a normal fast bowling. No one can believe on him unless he cannot see him personally. It is only the Principle of seeing is believing. Farhan Saeed aged 29 years old from Korangi a part of Karachi having his polio effected left leg, has a very difficult life, he cannot study in a normal School or play with normal persons. Everybody always making fun of him and not giving any importance, all the time he becomes dishearten with his Disability and thinking for his future. One day some children are playing tennis ball Cricket in his street he tried to bowl with his stick and become successful. He feel that he is bowling normally and he has no difficulty also people are obliging him. Every one praises his efforts and courage like a normal person. In Jan 2007 some of his friend told him that in the newspaper there is a trial of Physically Disabled Cricketers will be held on National Stadium Karachi. He thought that is may be some chance for his Cricket ability and maybe he selected. When he went their almost 12 or 13 players were come there and they all are like him, where he meet the Founder of Disability Cricket Mr. Saleem Karim who started this unique Cricket and gave us a huge opportunity to play a normal Cricket. After two or three practice session these boys were very excited to play a match, he is very confident to tell us that all the players were very excited to do something new as they have only chance to prove themselves that Disability is no bar on there. In this first match he start bowling and took one wicket and also loss the match with a narrow margin, but in very next match we defeated a academy team easily and feel that we can do anything in the field of Cricket. All the players beside their Disability performed extra ordinary and our feelings were high. From that changing day of our life we have played hundreds of matches. (Including, National Championship, Pentangular Cups, Local Tournaments and Friendly Matches) till today. We have toured Singapore and Malaysia in March 2010 to introduced Physically Disabled Cricket Internationally.To play Cricket matches a board was the best experience of our life.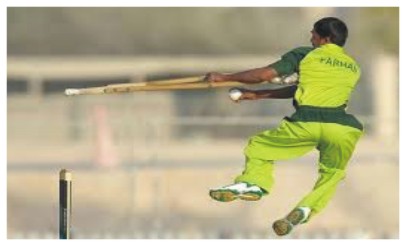 People were very excited to watch us playing normal Cricket against normal Cricketers in this tour we played six matches won three and lost three. Finally to play an International Cricket Series against England was a dream, every body of both the team not only enjoy this series but feel feely pride to represent their countries. At the time National Anthem of both the countries we all are thankful to the organizer especially Mr. Ian Martin (UK) and Amir Uddin Ansari (Pak) to gave us a live time achievement.