Citi GCD Diversity T-20 Cup
KARACHI DISABLED WON THE CITI GCD - DIVERSITY T-20 CUP

Karachi Disabled Cricket Team Lifted the Citi GCD - Diversity Night T-20 festival cup Cricket Title after defeating Citi volunteer cricket team by 49 runs played at DHA Moin Khan Cricket Academy Ground. The yesterday Night. The match was organized and sponsored by Citi Bank N.A, Pakistan to mark the celebrate company's 9th Global Community Day. Before starting the match both the teams were introduced to the chief selector Pakistan cricket board (PCB) Moin Khan.

Karachi Disabled Captain Roa Javed won the Toss and elected to bat first and posted a Big Total of 204 -4 in allotted 20 overs. Jahanzeb Tiwana hammered six sixes and as many as fours in his firey knock of unbeaten 74 coming only 30 balls, Danish Ahmed scored 73 runs in 42 balls with 11 fours and a six Matloob Qureshi contributed 37 runs in 39 balls with three fours , Noman took 1-10.
In reply Citi volunteers team restricted 155 -9 in over, Sheryar was the top scorer with 46 in 37 balls including 3 fours and a six, Medium pacer Farhan Saeed captured three wickets on for 11 runs, Jaleel took 2- 16. Jahanzeb Tiwana man of the final award, Nadeem Lodhi, CCO & MD Citi N.A, Pakistan and president KCA Prof. Ejaz Ahmed Farooqui, distributed the prizes in capacity as the Chief Guest at the ceremony also graced by president PDCA Salim Karim, Secretary Amir Uddin Ansari, country marketing and public affairs officers Citi Bank Adeel Shahid, Sameer Muhammad Khan (Citi Bank) Media Manager PDCA Muhammad Nizam and others. Captain Roa Javed received the winners Trophy, while Imran Dehdi, collected the runners-up Trophy, Sheryar (Citi) was the best Batsman, while Farhan Saeed (KDCT) got best bowler, Umer Ansari was the best fielder.
SUMMARIZED:

Karachi Disabled Cricket Team 204-4 in 20 Overs.
Jahanzeb Tiwana 74 not out in 30 balls (4x6, 6x6), Danish Ahmed 73 in 42 balls (4x11,6x1), Matloob Qureshi 37 in 39 balls (3x4). Noman 1-10.
Citi Volunteers Cricket Team 155-9 in 20 Overs.
Sheryar 46 in 37 balls (3x4,1x6). Farhan Saeed (RMF) 3-11, Jaleel (LAS) 2-16.
Chief Selector Pakistan Mr. Moin Khan with Karachi Disabled Cricket Team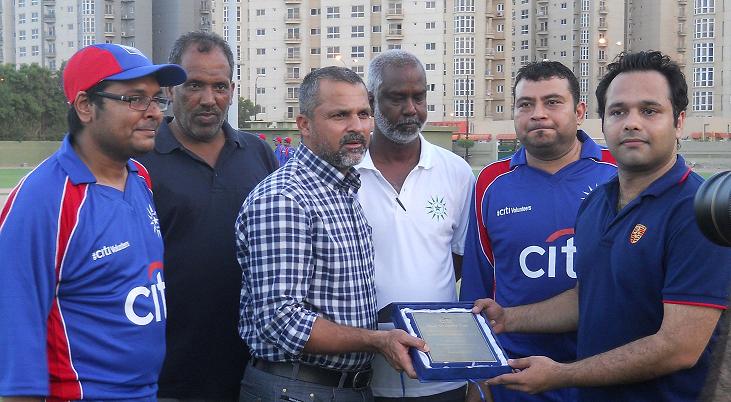 Country Marketing Officer of Citi Bank Mr. Adeel Shahid presenting Sevinour to Mr. Moin Khan
Karachi Disabled Cricket Team
Citi Volunteers Cricket Team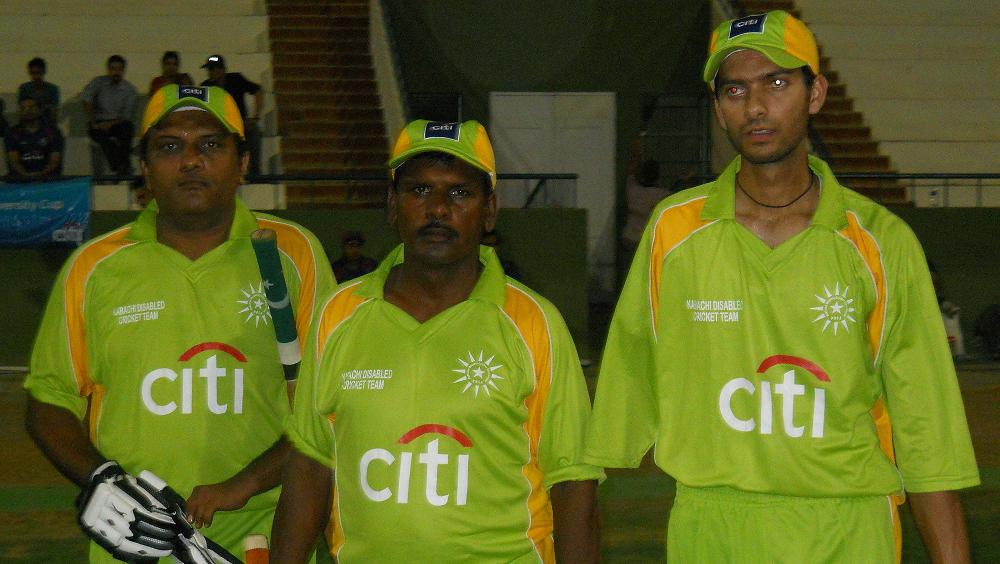 Openner of Karachi Disabled Cricket Team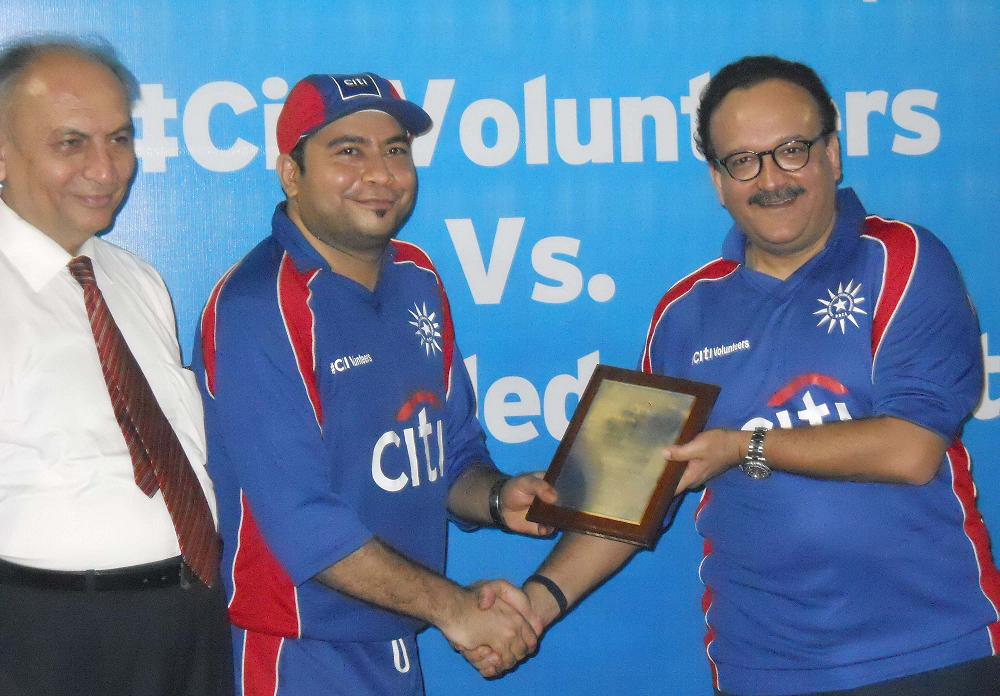 Mr. Nadeem Lodhi President Citi Bank giving Shield to Mr. Imran Dahdi
Best Batsman of the Cup Mr. Sheriyar Dar.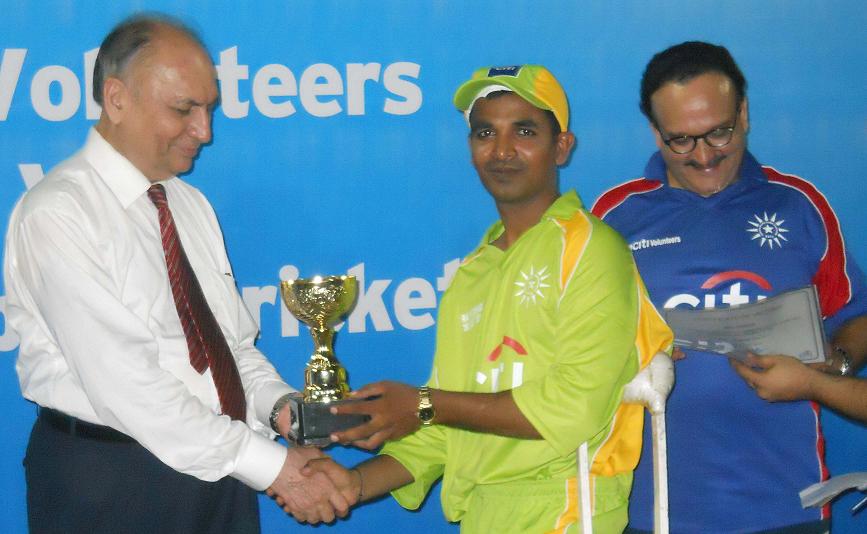 Best Bowler of the Cup Mr. Farhan Saeed
Best Fielder of the Cup Mr. Umer Ansari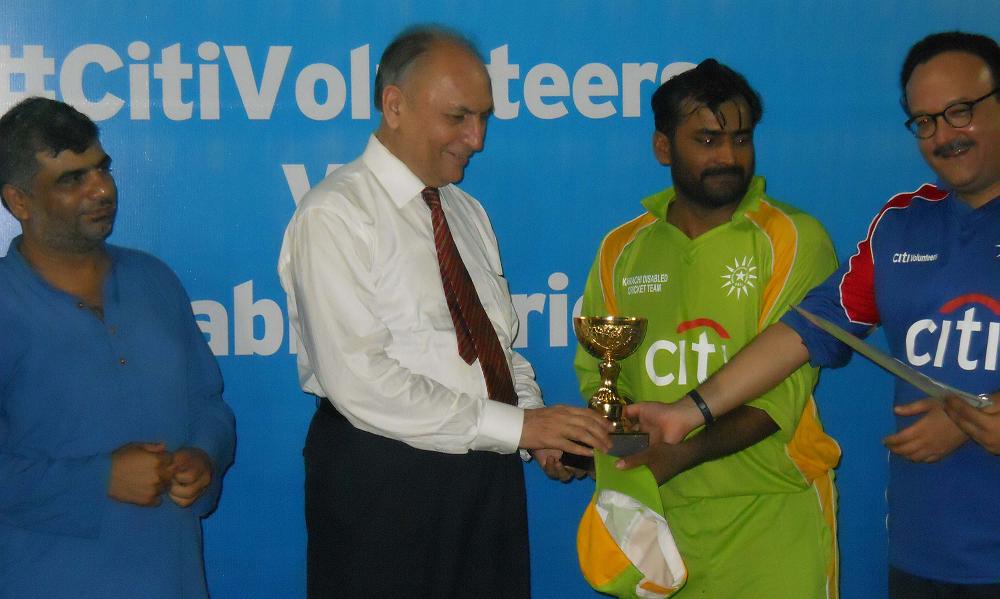 Man of the Match Mr. Jahanzaib Tiwana
Group Photo of Karachi Disabled Cricket Team with Mr. Nadeem Lodhi (Citi Bank) and Prog. Ejaz Farooqui President KCCA
The Winners and Runners-up of the Cup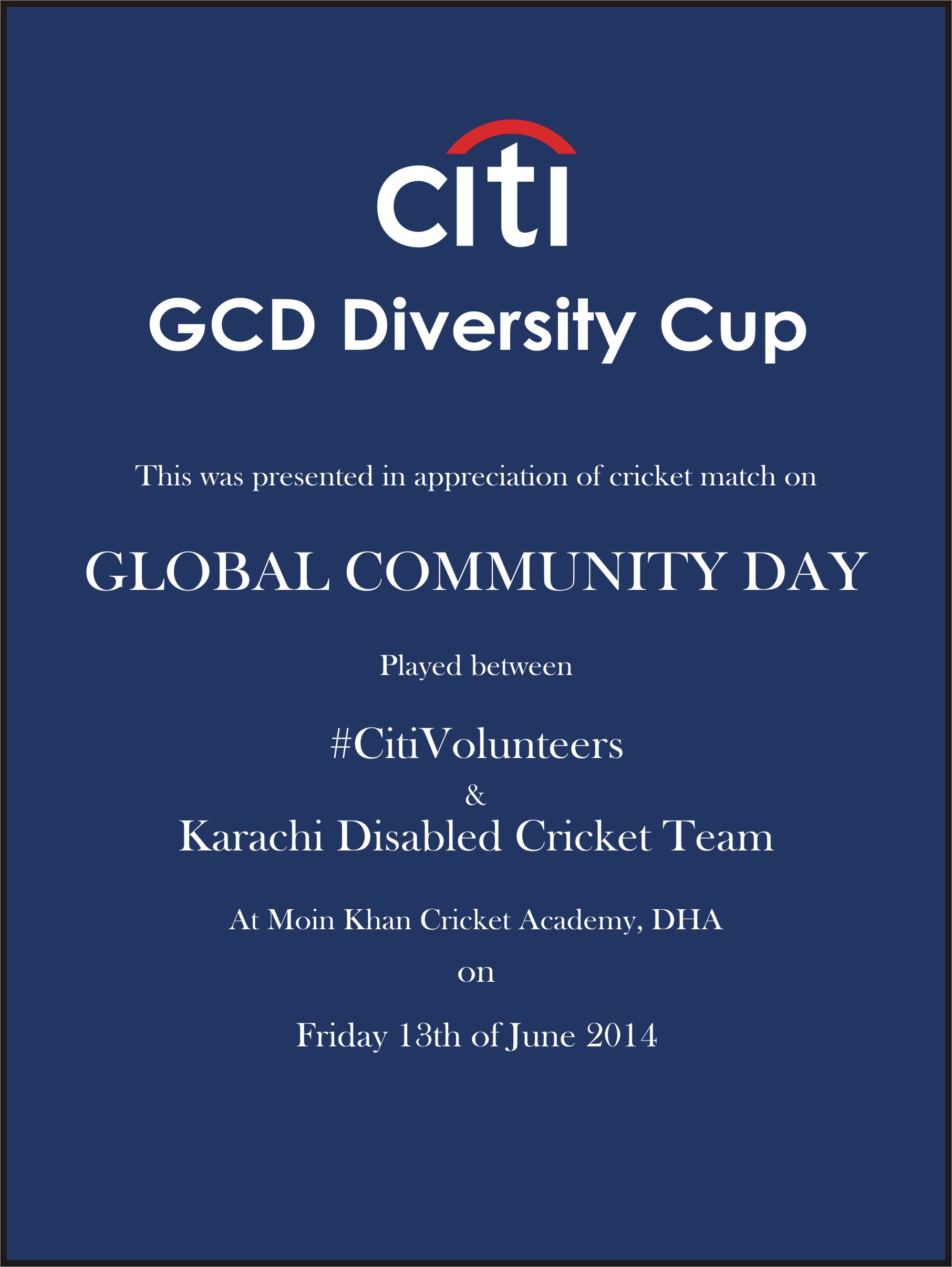 Citi Pakistan organizes Citi GCD Diversity Cup to celebrate Company's Ninth Annual Global Community Day
Karachi – As more than 200 Citi Pakistan volunteers around the country engage in service activities to benefit their local communities, Citi this year will mark its ninth annual Global Community Day. Working side-by-side, Citi colleagues, family and friends will demonstrate the company's commitment to supporting and improving communities byparticipating in a T20 tournament against the Disabled Team of Pakistan alongside other activities planned across the country.
The Citi – GCD Diversity T20 match will take place on June 13, 2014 at Moin Khan Cricket Academy in Defence, Karachi. The tournament is a joint initiative of Citibank N.A., Pakistan and the Pakistan Disabled Cricket Association (PDCA). The association is recognized by the Pakistan Cricket Board and supported by cricket legends Moin Khan, Shoaib Malik, and Shahid Afridi.
The Karachi Disabled Cricket Team will be led by international cricketer Rao Javed while Sameer Khan and Imran Dhedhi will jointly lead the Citibank N.A., Pakistan's volunteer team.
The prize distribution ceremony will be held after the match at 11:00 pm. Nadeem Lodhi – CCO & MD Citibank N.A., Pakistan along with Saleem Karim – PDCA President will be the chief guests. The prize distribution ceremony will also be attended by former test cricketers Sikandar Bakht and Tauseef Ahmed, along with other former and current members of the Pakistan cricket team and other dignitaries.
KARACHI DISABLED SQUAD NAMES:
Rao Javid (Captain), JahanzaibTiwana, Matloob Qureshi, Arif Richard, Danish Ahmed, Muhammad Kalam, Ameer Ahmed, Iqbal Hussain, Farhan Saeed, Waheed Khan, Eshaq Junior, Fawwad Ahmed, Jalil, Abdul Jabbar, Safeer Ahmed, ShafiPatni, Qambir Ali (Coach), Muhammad Nizam (Manager), Dr. Noman Paliker (Team Doctor).
CITI VOLUNTEER SQUAD NAMES:
Sameer Muhammad Khan, Rashid Hidayat, Shehryar Khurram Butt, Faraz Shakeel, Imran Khan, Muhammad Arman Qadri, Bilal Ghori, Adeel Ahmed Naqvi, Mohammad Asad Ali, Imran Dhedhi, Nadir Khan, Muhammad Fahad, Farmanullah Khan, Muhammad Umair Bandhani, Noman Ahmed Malik.