3rd National Disabled One-Day Cricket Championship 2011 - 2012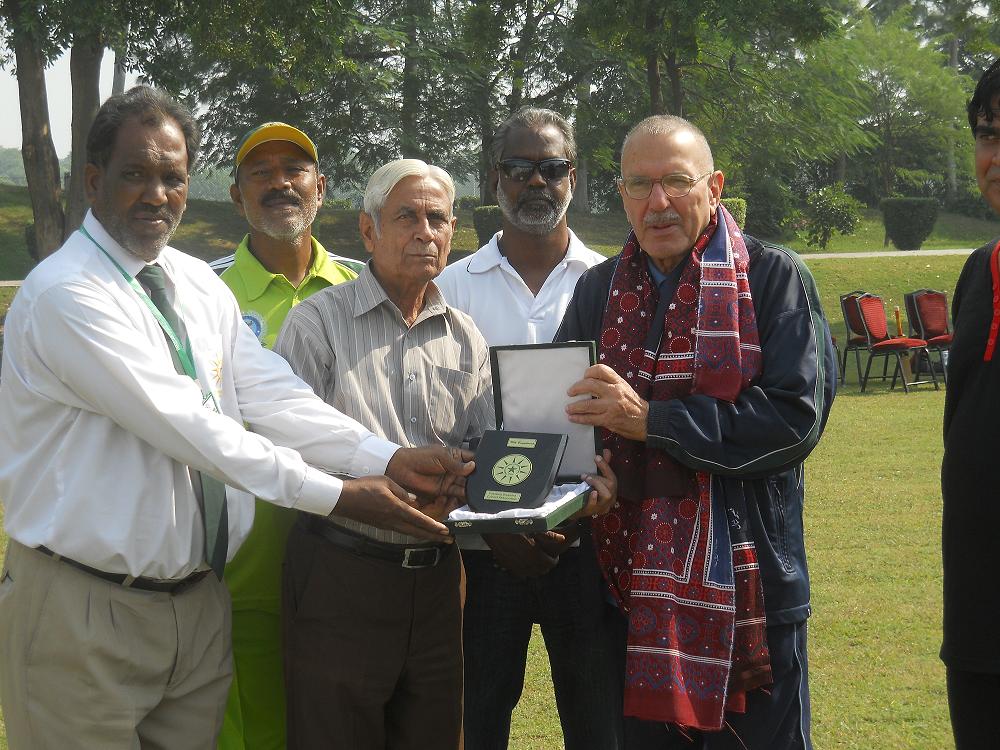 3rd National Disabled One-Day Cricket Championship 2011-2012 Karachi Disabled beat Multan Disabled by 2 wickets and Lahore Disabled beat Rawalpindi / Islamabad by 72 runs on Tuesday at Race Course Park Ground Lahore and reach the Final. Secretary Lahore Gymkhana Javed Zaman Khan was the Chief Guest and inaugurates the Semi Final.

FIRST SEMI FINAL RESULT: (Toss Won by Karachi)
SUMMARIZED SCORE:

MULTAN DISABLED 136-10 IN 25.2 OVERS.
Baber Ali 54 in 40 Balls (4x9), Zubair Ahmed 37 in 38 Balls (4x2), Majid Hussain 12 (4x2).
Iqbal Hussain (RLS) 2-12, Riasat Ali (LAS) 2-15, Ameer Ahmed (LAS) 2-29.
KARACHI DISABLED 137-8 IN 31.3 OVERS.
Danish Ahmed 40 in 43 Balls (4x5), Ishaq Jr. 31 in 36 Balls (4x3), Abdul Rehman 14 (4x1).
Zubair Ahmed (LMF) 3-20, Majid Hussain (OB) 2-19.
Man of the Match Danish Ahmed (Karachi)
2ND SEMI FINAL RESULT: (Toss Won by Lahore)
LAHORE DISABLED 214-7 IN 32 OVERS.
Hasnain Alam 138* in 113 Ball (4x17, 6x2), Iftikhar Khurram 22 (4x2), Zulfiqar Ali 18*.
Shahid Mehmood (RMF) 3-46, Altaf Ahmed (RLS) 2-39.
RAWALPINDI / ISLAMABAD DISABLED 142-10 IN 29.2 OVERS.
Altaf Ahmed 70 in 86 Balls (4x7), M. Ali Abbas 10.
Muhammad Abdullah (LMF) 3-18, Zulfiqar Ali (SLA) 2-13, Shahid Qureshi (LMF) 2-16, Muhammad Abid (LB) 2-35.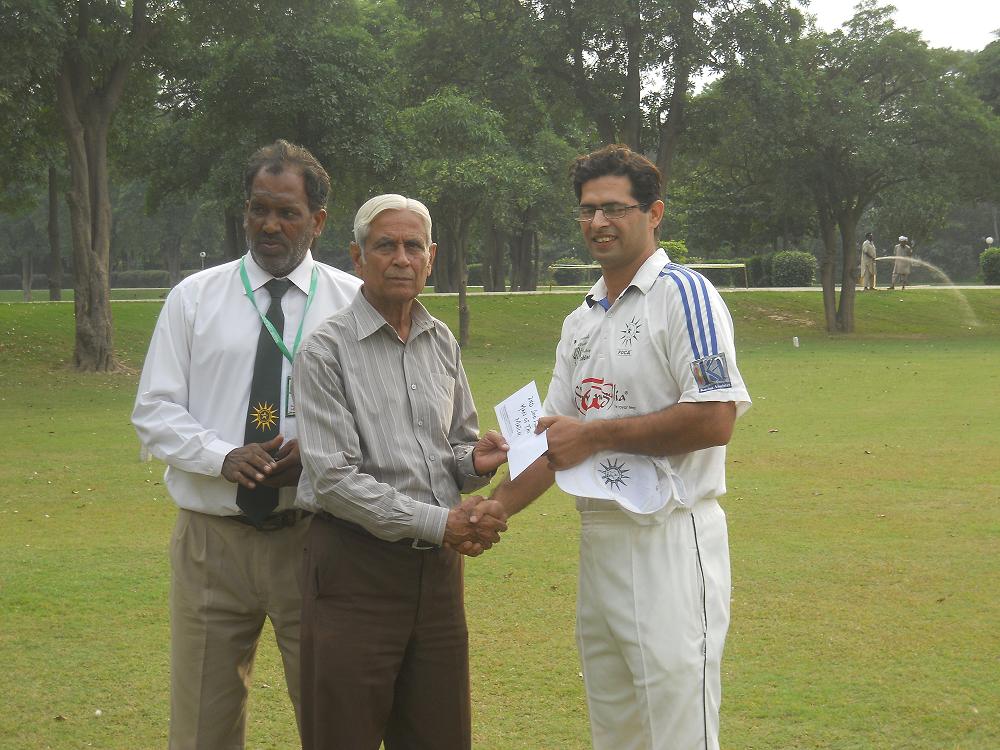 Man of the Match Hasnain Alam (Lahore)
Final Match Karachi Disabled Vs Lahore Disabled
Lahore Disabled beat Karachi Disabled by 13 runs at Lahore Gymkhana Ground.
Former Captain Pakistan Cricket Team Inzimam-ul-Haq was the Chief Guest and Agha Zahid Official PCB. Preside the ceremony.
Final Match: (Toss Won by Karachi Field First)
SUMMARIZED SCORE:

Lahore Disabled 88-4 IN 10 OVERS.
Hasnain Alam 46 in 31 balls (4x5, 6x1) Muhammad Ashfaq 20 in 14 balls (4x1,6x1),
Sadeem Baig 16 in 10 balls (4x2, 6x1). Riasat Ali 2-09, Muhammad Kalam 1-11.

KARACHI DISABLED 75-4 IN 10 OVERS.
Danish Ahmed 35 in 20 Balls (4x4,6x1), Abdul Rehman 22 in 22 balls (4x1), Arif Richard 8 in 7 Balls.
Abdullah Ejaz 1- 12, Abid Hussain 1-12, Iftikhar Khurram 1-17.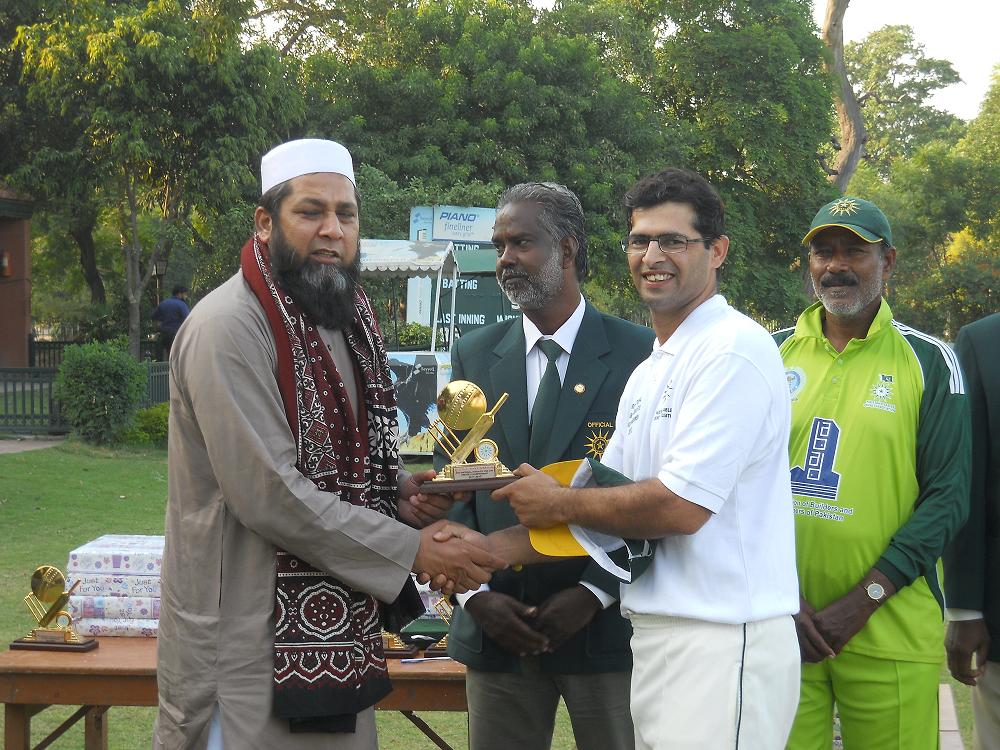 Best Batsman of the champion Ship.  Major Husnain Alam (Lahore)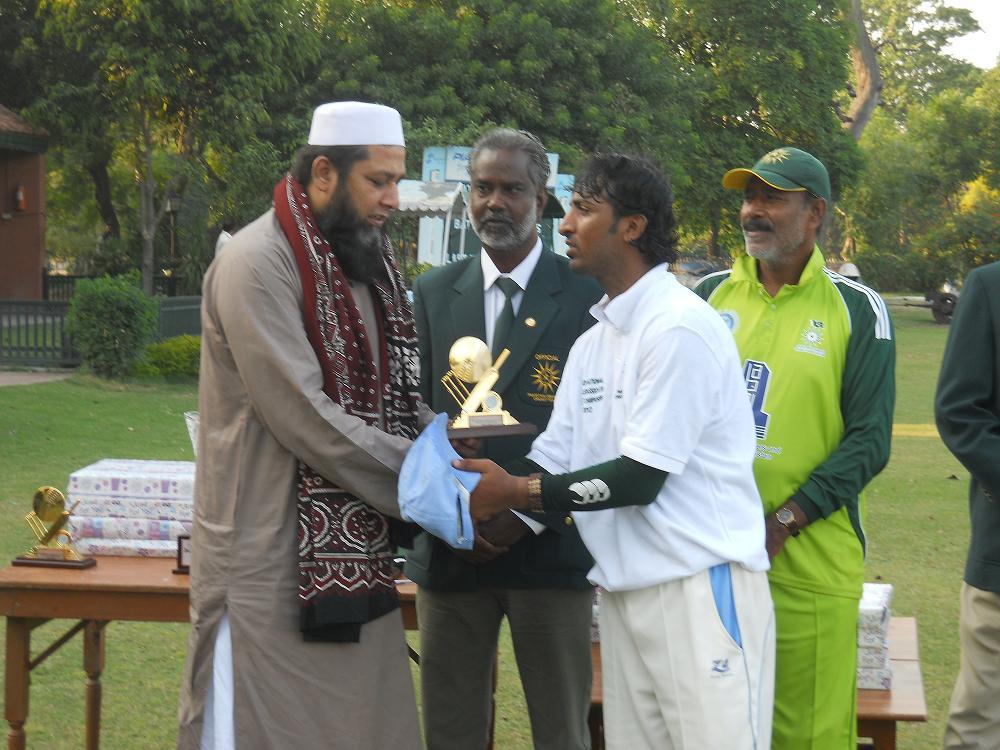 Best Bowler of the Champion Ship Amir Ahmed (Karachi)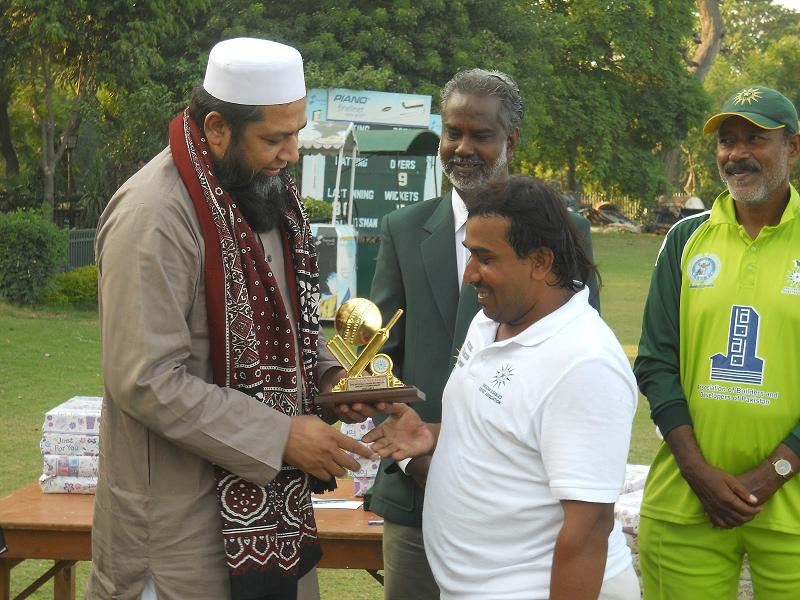 Best Fielder of the Champion ship. M. Ashfaq (Lahore)
The Champions Lahore Disabled
The Runners-Up Karachi Disabled
THANKS FOR PARTICIPATION
We are Proudly Grateful to All Disabled Cricketers, Match Officials, Coordinators, and All the Print and Electronic Media Persons those participated in this Championship and made it Successful, We are very thankful to Pakistan Cricket Board (PCB) for their Interest for the Development of Disabled Cricket in Pakistan  This event was inaugurated by Mr.Zakir Khan Director Cricket Operation Domestic in September 2011 at LCCA Ground and Mr Inzimam-ul-Haq Former Captain of Pakistan Cricket Team with Mr. Agha  Zahid official of PCB ended this event as a Chief Guest at Prize Distribution Ceremony at Bagh-e-Jinnah Lahore on 24th October 2012. Congratulations to Lahore Disabled Cricket Team to become New Champion of the Event while Karachi Disabled become Runners-Up.
Thanx again to all.
PDCA.